Technically, a kitchen is a room or part of a room used for cooking and food preparation in a dwelling or in a commercial establishment. In the West, a modern residential kitchen is typically equipped with a stove, a sink with hot and cold running water, a refrigerator, counters and kitchen cabinets arranged according to a modular design. Many households have a microwave oven, a dishwasher and other electric appliances. The main function of a kitchen is serving as a location for storing, cooking and preparing food (and doing related tasks such as dishwashing), but it may also be used for dining, entertaining and laundry.
A kitchen is where every foodie's heart is and sadly the same hold true for kitchen pests too! To keep the kitchen sparkling clean is everyone's dream, so the kitchen pests can turn out to be quite a nightmare for everybody as they  simply love the smell of your food leftovers or that favorite dessert and busily nibble on it when no one is watching.
So, here are some effective home remedies to protect your kitchen from pests ;
(1) Fresh Basil Leaves v/s Flies
Undoubtedly, Fruit Flies are pests of the worst nightmare. You can either go swap swapping behind each of them, or you can pot some fresh basil plants near your kitchen windows. The smell keeps the insects at bay, besides making your kitchen smell fresh and nice all day long.
(2) Coffee Grounds and Vinegar v/s Ants
The moment you see a couple of ants moving around in your kitchen, get the coffee grounds out and sprinkle it all around the windows and the entry points where the ants get through. This will stop them from coming into your kitchen.
Another great way to ward off ants is to use vinegar and a strong-smelling essential oil – like peppermint or citronella – to wipe your kitchen counters. Make sure to wipe all around the edges and the wall areas as well.
(3) Lemon Spray v/s Spiders
Make an an all natural spray with soap water and essential oils of lemon or orange. 5 drops of either in about a litre of water should do the trick. You can bottle this up in a spray bottle and spritz it around your kitchen to keep away spiders. Spray pure undiluted lemon juice around the cracks in your kitchen walls to avoid spiders from burrowing in.
Once you're done making the spray, collect the leftover lemon and orange peels and place them in the corners of your cabinets. This will prevent moths and other pests from coming into your kitchen.
(4) Eucalyptus Oil v/s Pests
The essential oil of eucalyptus has a sweet, pungent smell that can ward off many pests. You can either use the undiluted oil to wipe kitchen counters or mix it with a little water and use it in a spray bottle to spritz around the place. As the water dries, the eucalyptus oil will evaporate into the air and keep the flies and bugs away from your kitchen.
An uncluttered kitchen with plenty of storage is a dream to work in. Having everything in its proper place makes prepping, cooking and even cleaning easier and more fun. Here are some smart ways to organize your kitchen in the most stylish and trendy way ever!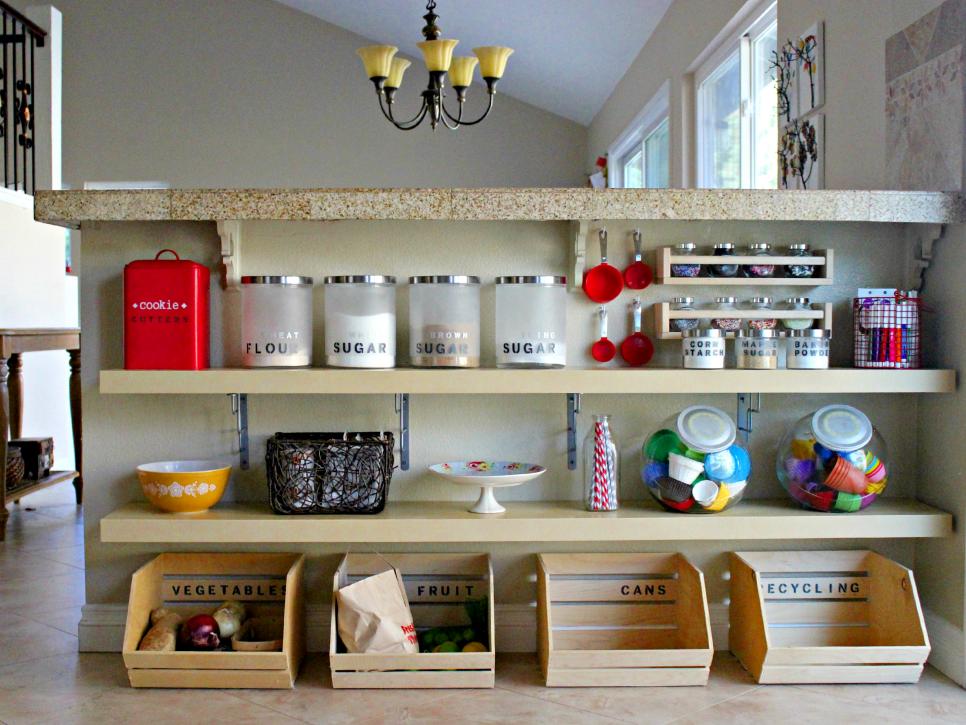 Do you long more kitchen space? Make yourself a Breakfast Bar! Since you use your kitchen island for prepping meals, you can execute idea of adding shelves under one side of the island, using the wooden crates to store vegetables, cans and recycling.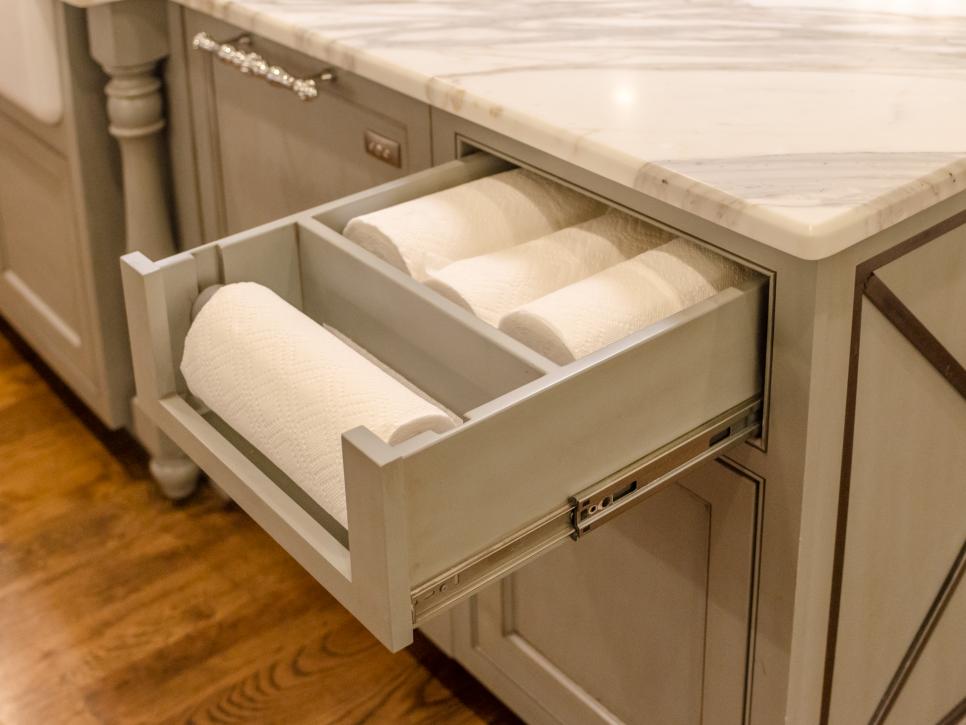 An open-face drawer with a built-in paper towel dispenser makes the towels easy to reach but it is not an obvious part of the kitchen.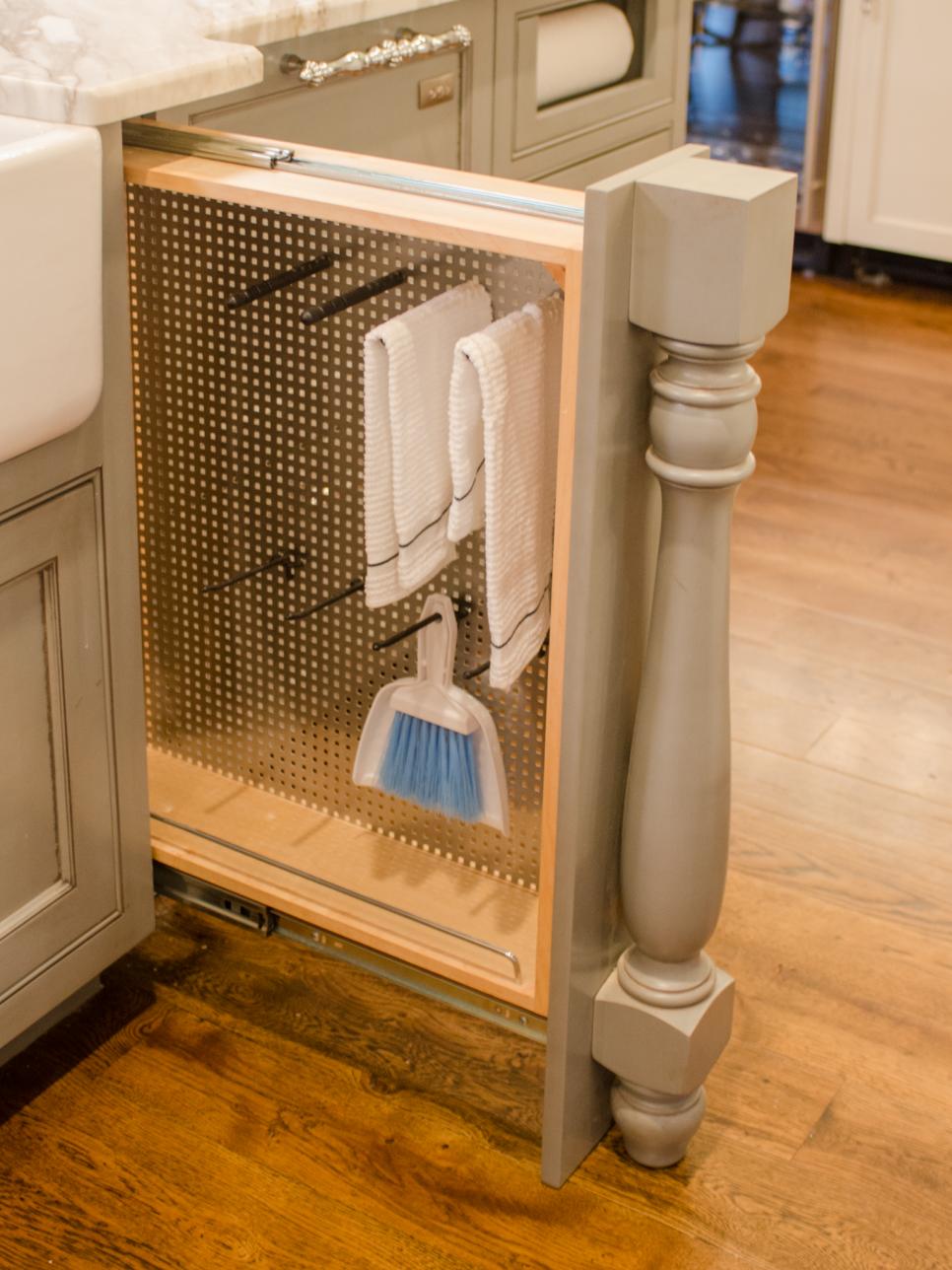 A set of columns on either side of the sink look purely decorative, but they're totally practical with their pegboard-style storage.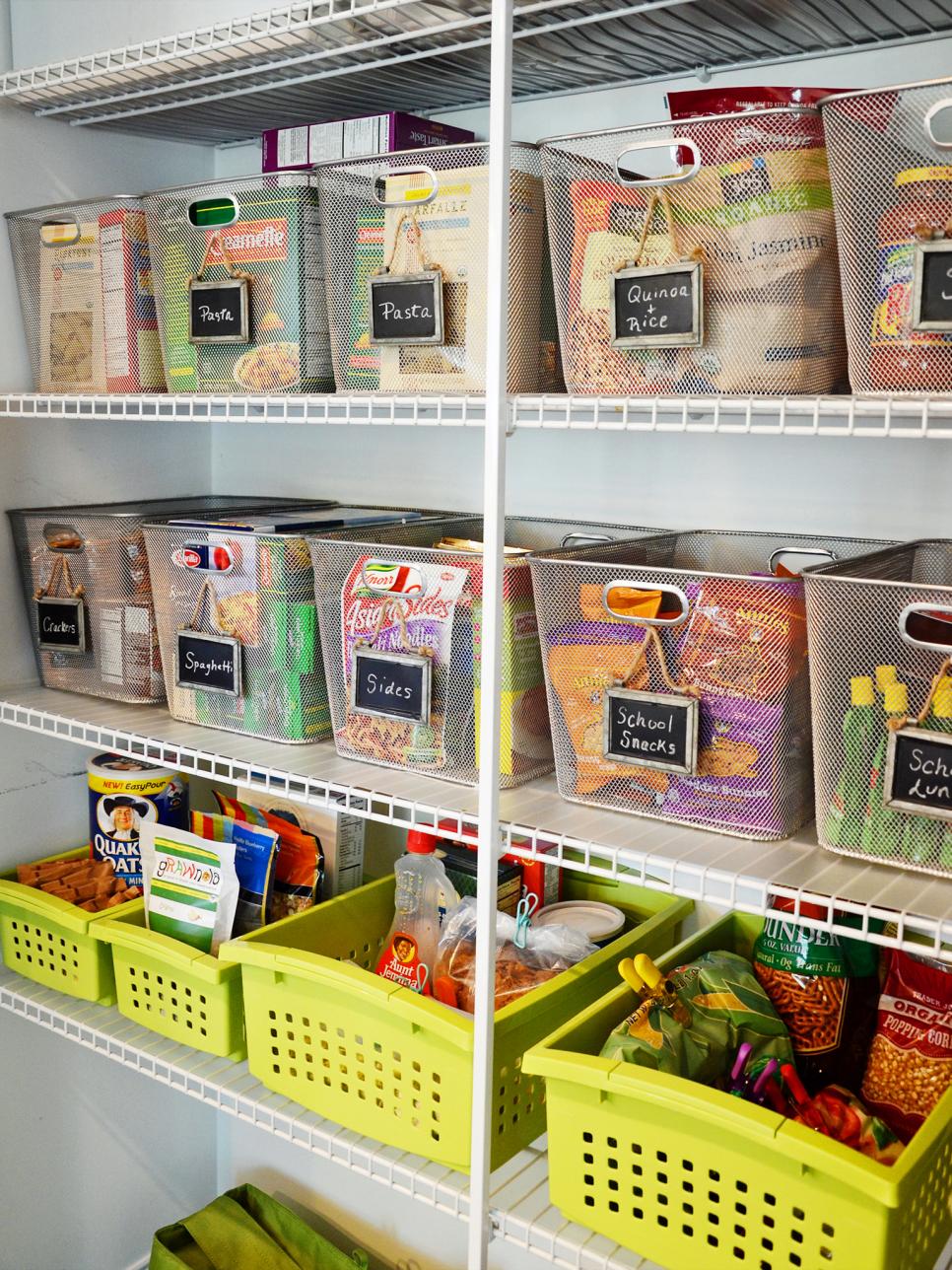 Organize your pantry staples in see-through, pull-out baskets it'll make it easier to see what you have and what you need.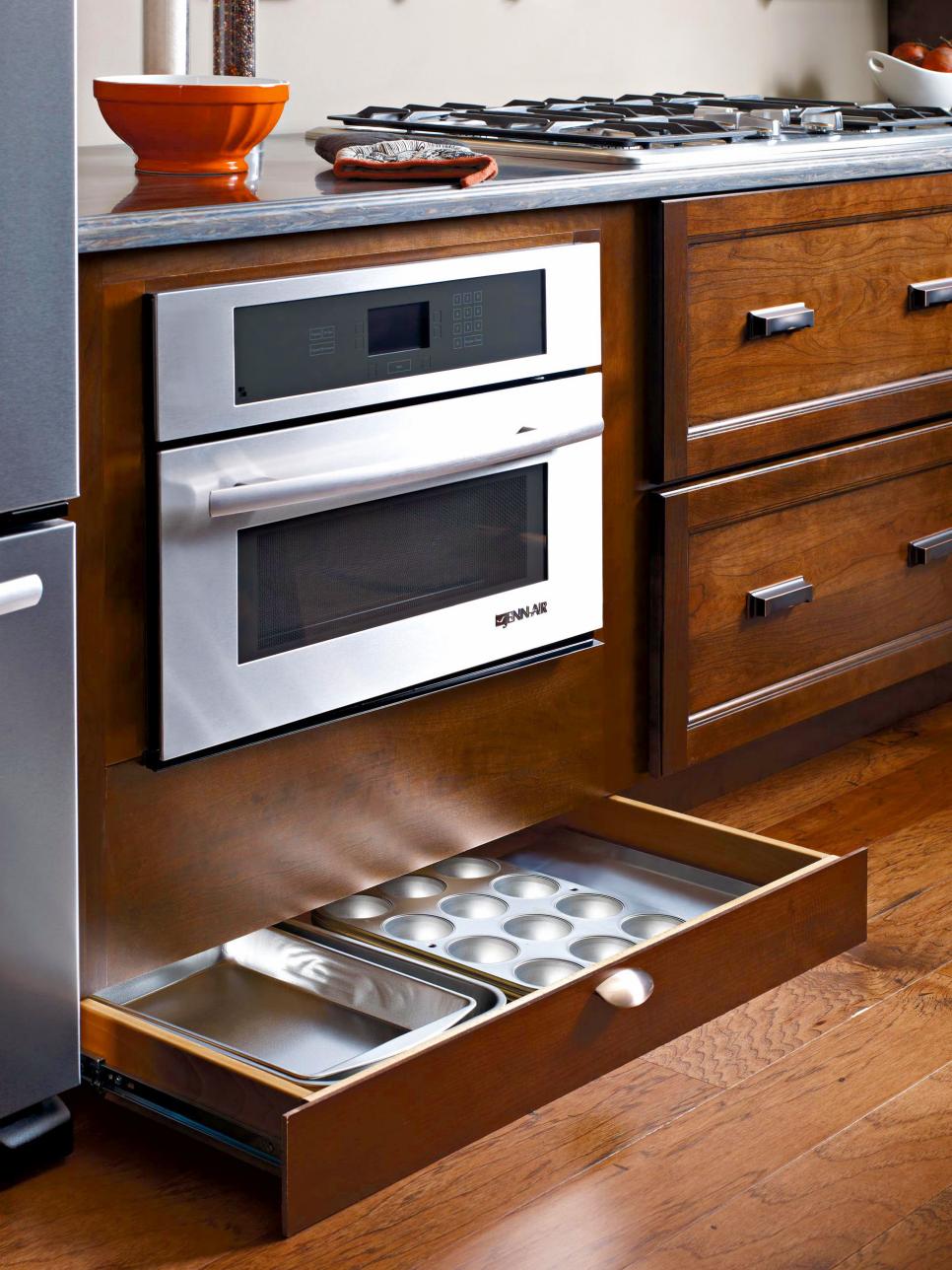 Most kitchens have toe kicks under their cabinets. They look stylish and are easy to handle.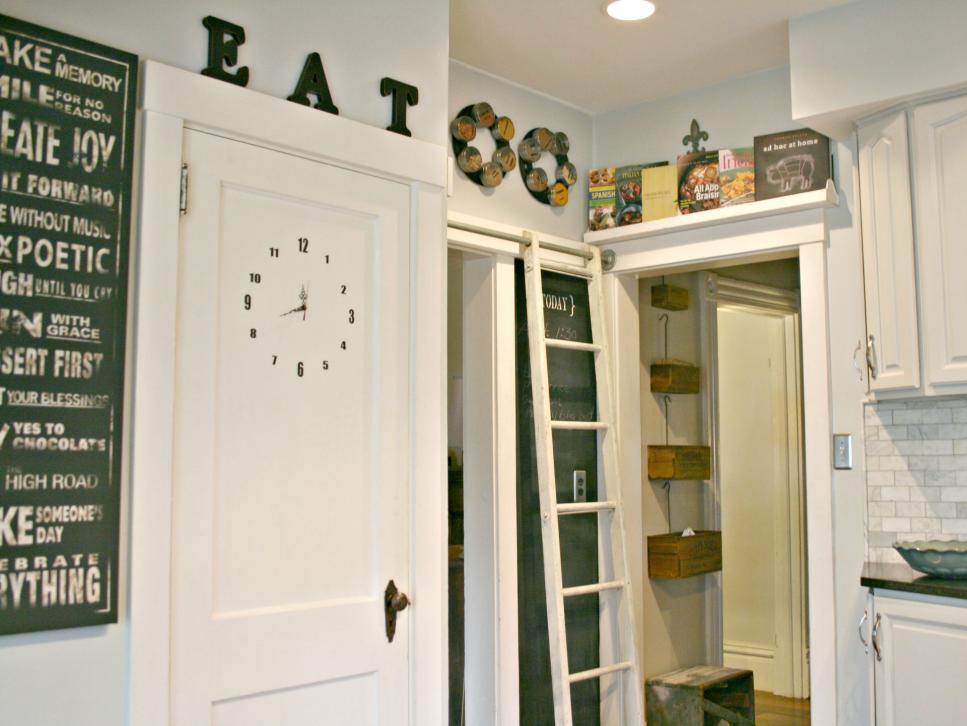 Don't overlook those hard-to-reach spaces. With a handy sliding ladder in place, access is a fingertip away. The shelf over the entryway stores cookbooks, and the lady of the house or the maid is mounted on the wall to hold spice canisters.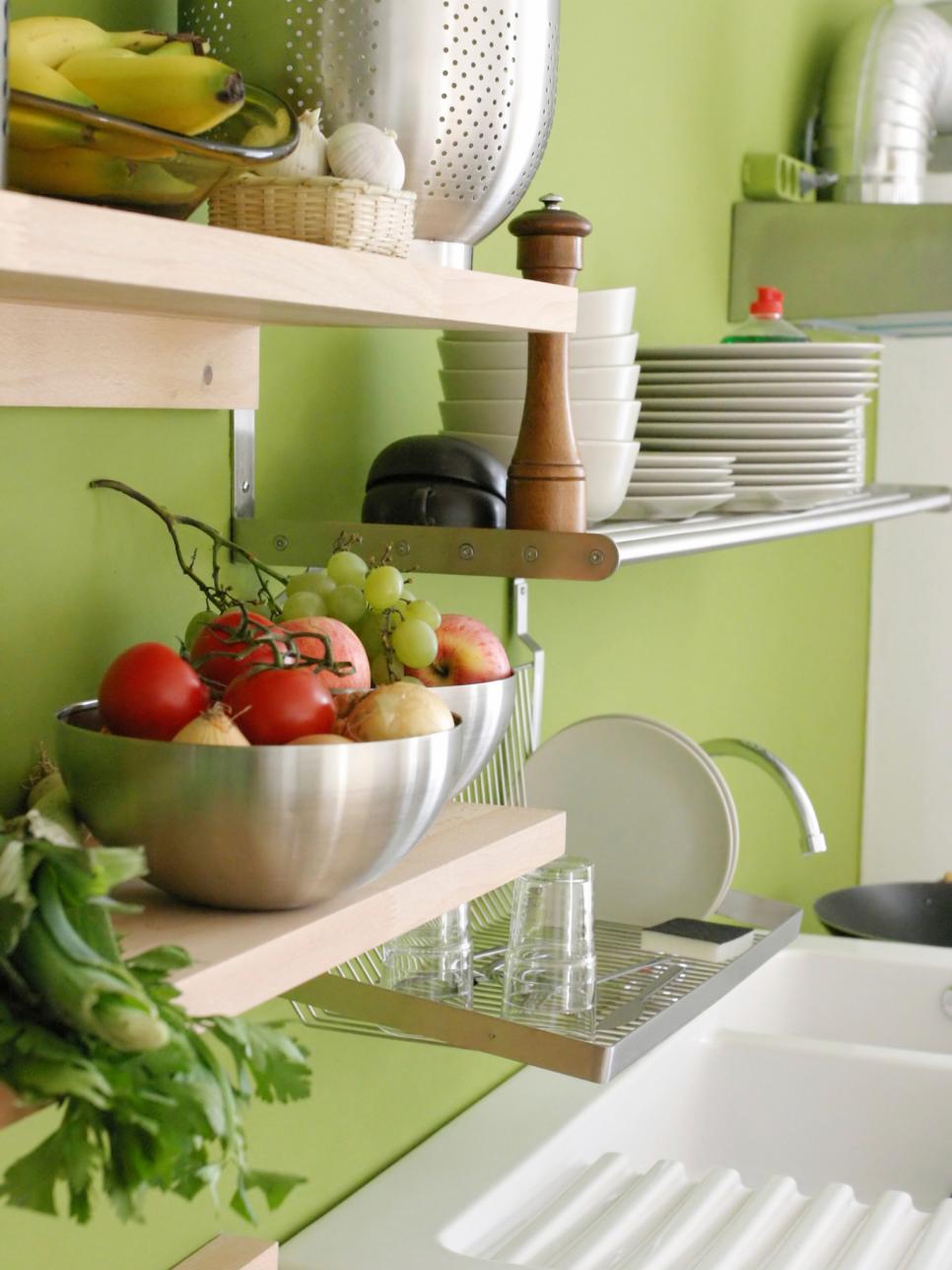 The fun of floating shelves such as these is that you can position them any way you want, which makes them an ideal choice for tiny kitchens.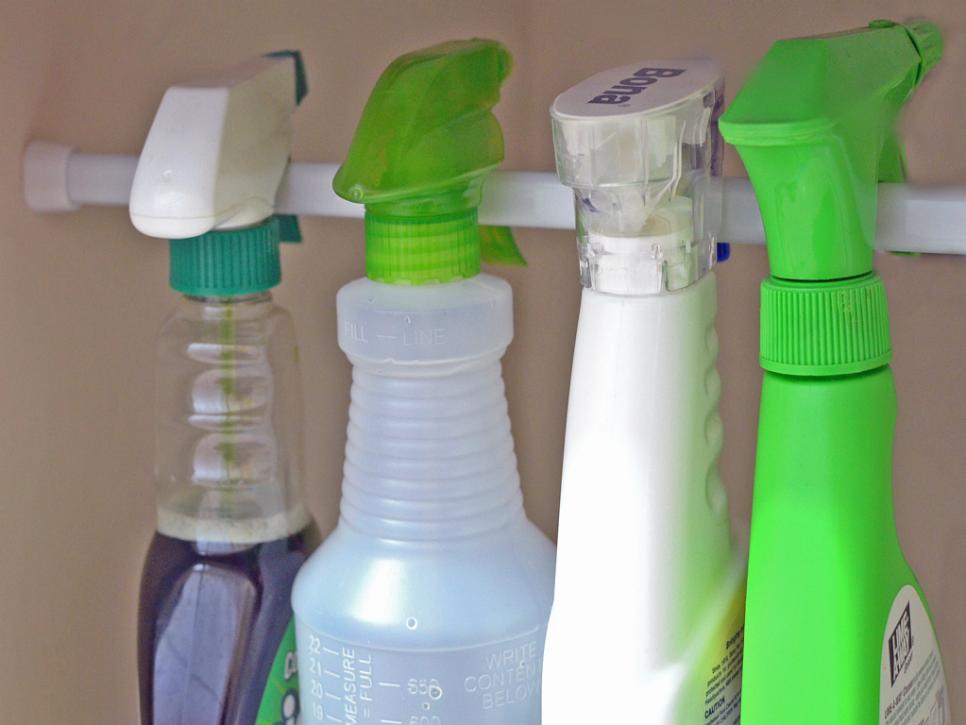 When organizing your kitchen, it's easy to forget the dark area below the sink. Stop tossing in the miscellaneous cleaning supplies, and give them a space that's all their own. By adding a small curtain rod below the sink, you will be able to hang your cleaning supply bottles while also opening up the bottom of the cabinet for other items.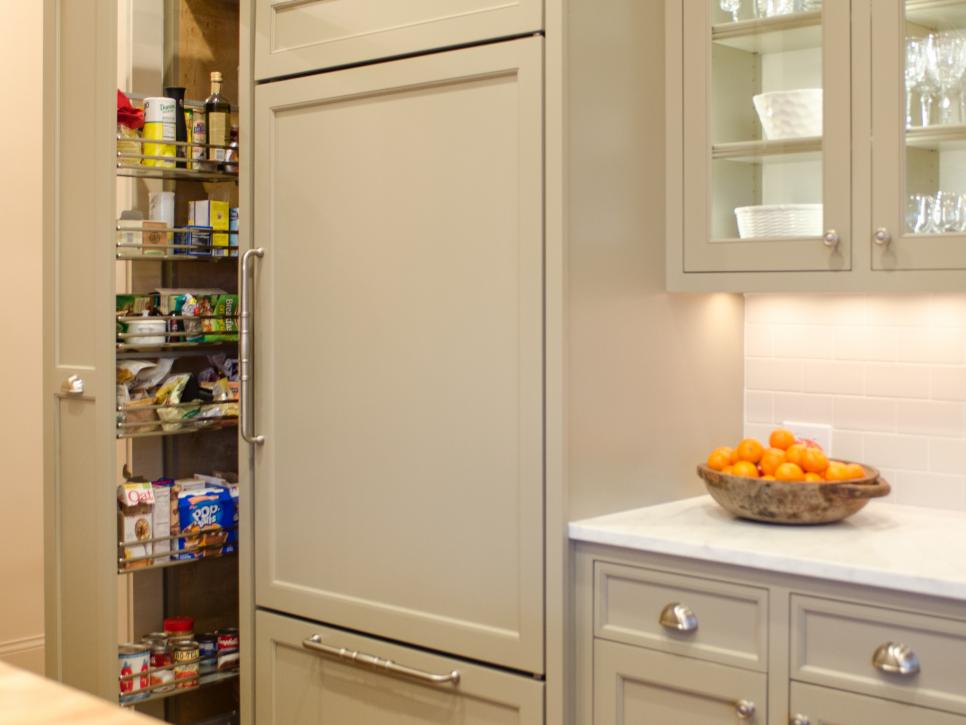 The tall pull-out cabinet next the fridge is open on both sides so it is convenient and easy to see what you've got in stock.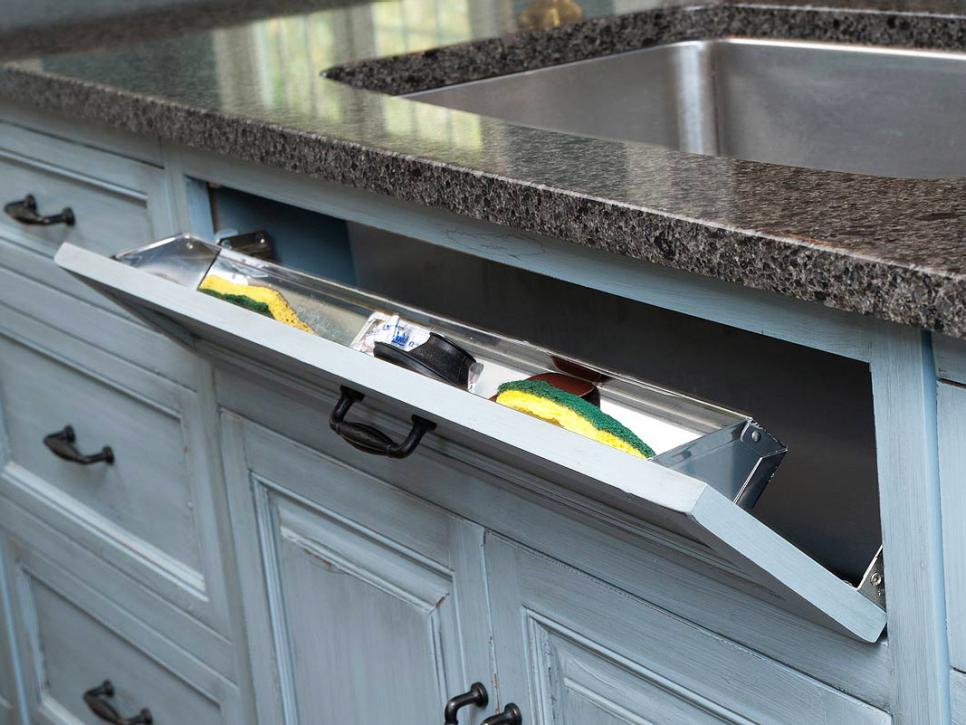 Why have a drawer if you can't actually use it? Try adding hinges and a convenient tray to the false drawer for an extra place to hide cleaning essentials.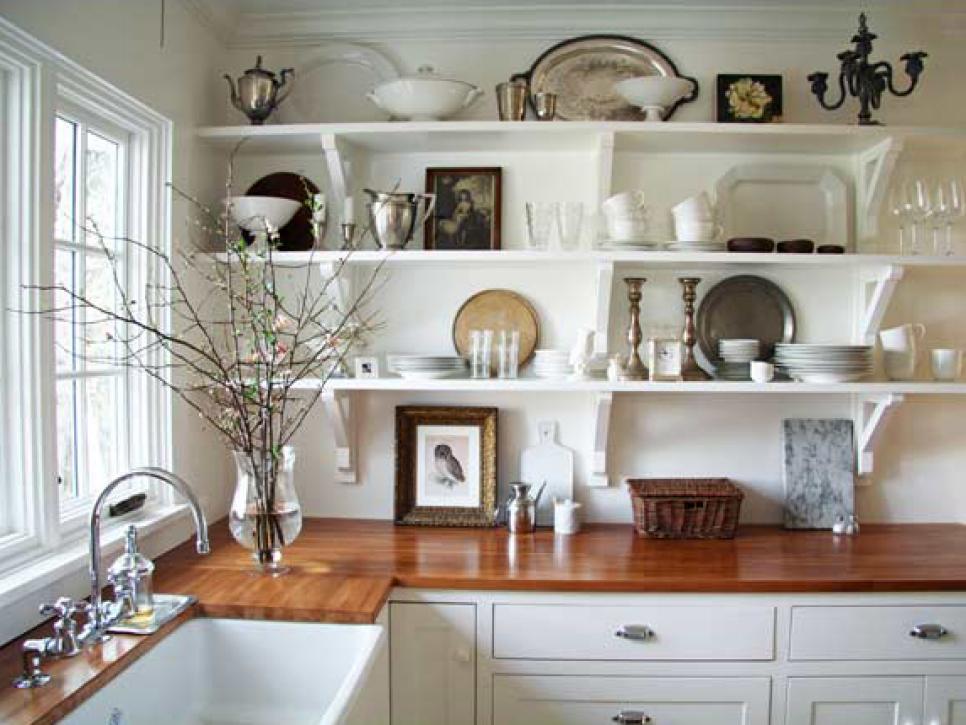 Display your favorite dishes with antiques and artwork to add interest and character to your open shelving.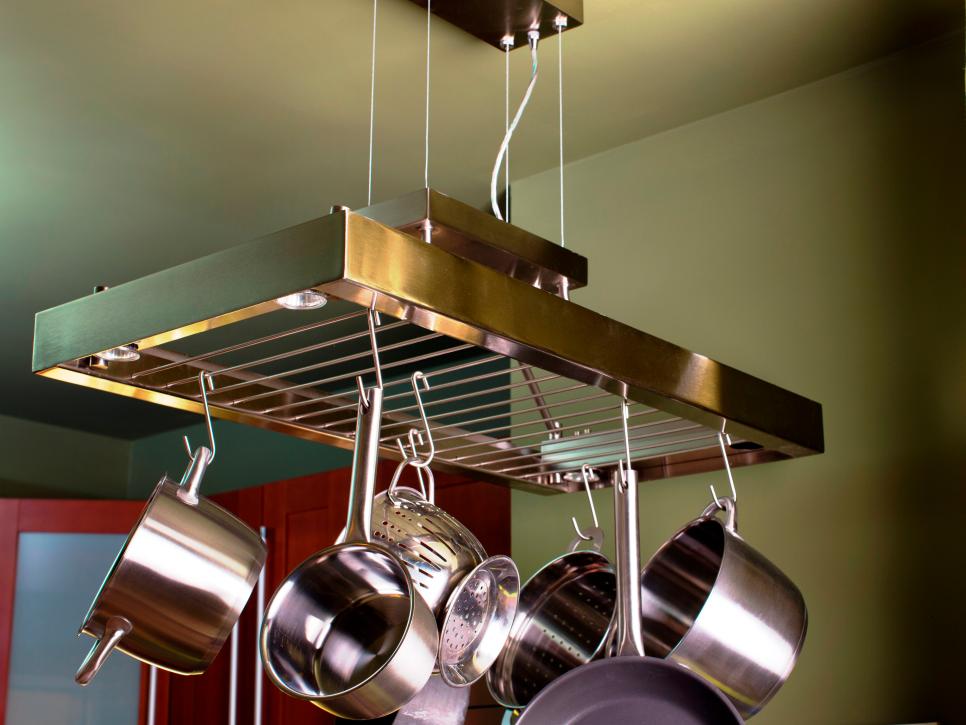 A pot rack with an integrated light fixture with small halogen bulbs takes advantage of vertical space and can add task lighting to the work space below.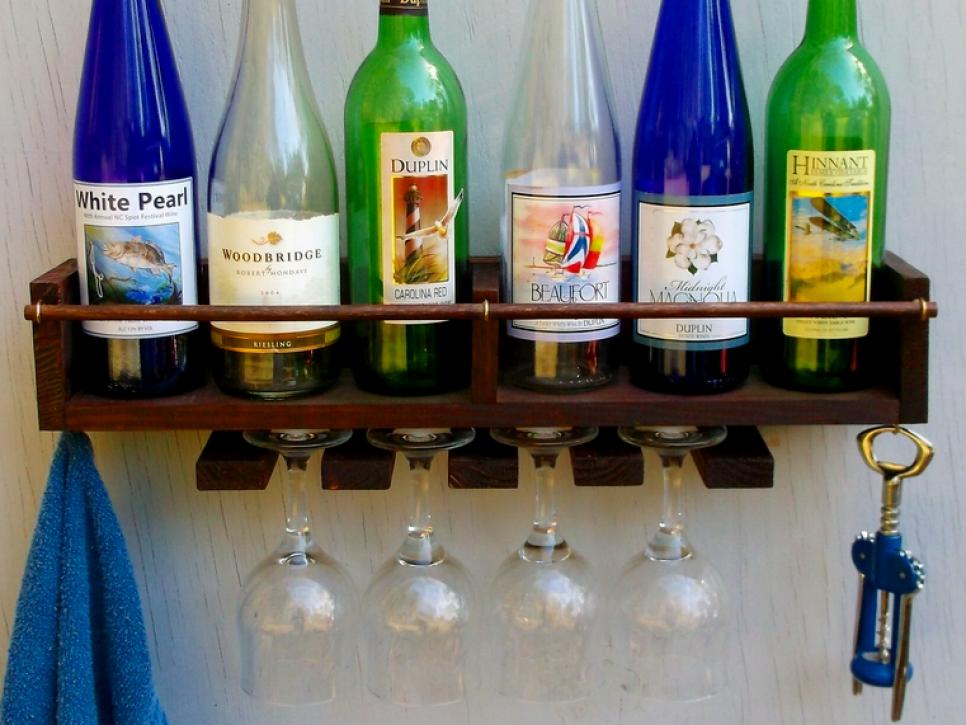 This reclaimed wooden rack is great for housing open wine bottles and other accoutrements like corkscrews.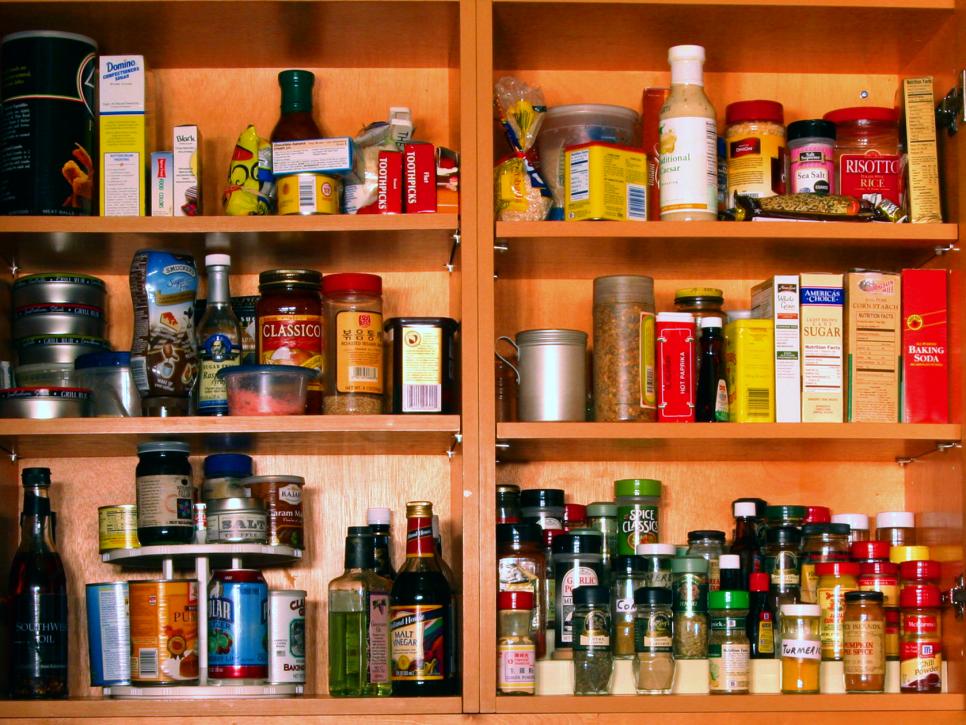 When you open a cabinet door, don't you want to see order? This works like a lazy Susan to house canned goods. It stores 13 cans or up to 39 food cans, depending on their size.
It is so comforting to enter the doors of your home filled and welcoming with aromas of clean and soothing a kitchen. Spices and fragrances that you remember from childhood. The smell of baking bread and a delectable chocolate cake that takes you back to those days when things were a tad simpler, and good food was the backbone of your simple life.
No one can deny the power of good food. Maybe this is why they say that kitchens are the heart of every home. Gastronomes will obviously believe in that adage, but even for those of us who do not wear the chef's hat on a regular basis, the importance of a good kitchen cannot be denied. It is where all your meals are made, and a messy kitchen can throw anyone off balance for sure. As urban homes go, space is always a constraint for us, city dwellers. And it is a challenge to have a kitchen in a small house that is uber-functional, has enough space to hide your enormous collection of jars and bottles, and yet allows you freedom of movement. And, most importantly, is easy to clean after all the cooking is done.
Follow us to know more about how to buy the righteous modular kitchen and many more subject-related topics.
"The kitchen. The bathroom. The yin and yang of the household."
― David C. Holley, Write like no one is reading